Braindepo

iGaming

Platform
Get a ready-made business solution with the maximum benefit — $0 subscription fee for the first month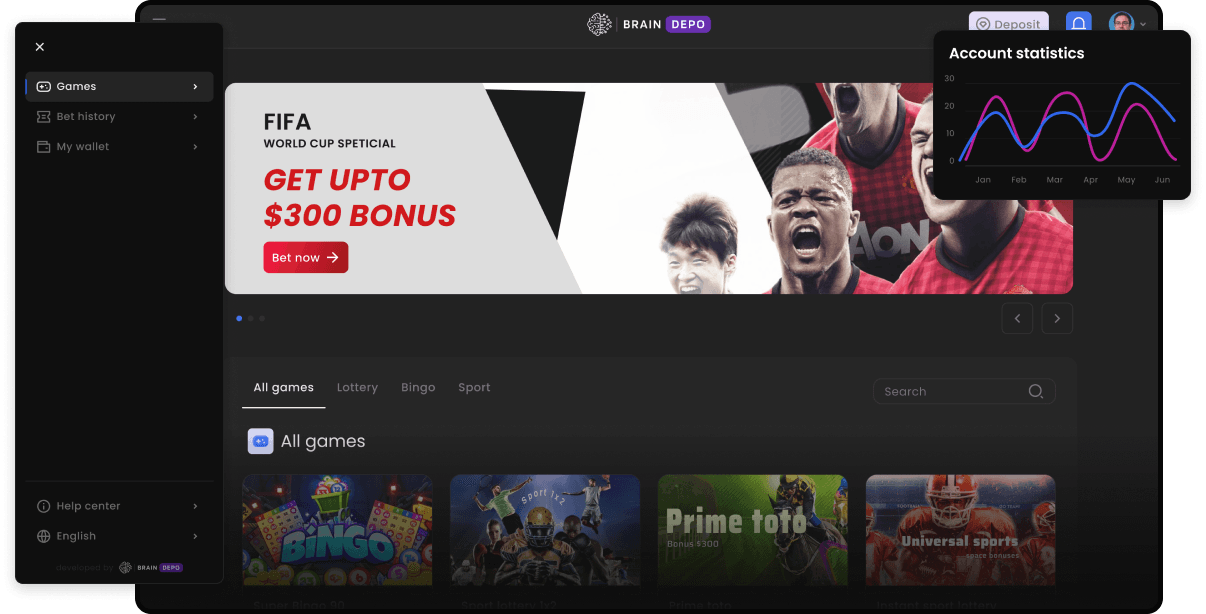 Make
Your Business
Better
Every Tools. One Platform.
Braindepo platform is Multilanguage online gambling platform with set of bingo, betting and sports lottery games. It is a ready-to-use solution for clients who want to utilize new business models in order to develop local business and remove the limitations of paper lottery. We offer high quality, flexibility, reliability and customization. BrainLottery platform is available across web systems and as mobile lottery platform. Whether you need fully customized online lottery software products or readymade online lottery platform, our team will provide you the best services needed to run Your successful online lottery business.
Platform provides rich functionality:
Authentication and authorization. Get and check user access to resources;
Access management. Users, roles, permissions management. It allows to build partnership network (admin –> partner - > cashier -> player);
Task scheduler. Schedule tasks which will be performed at particular time in future. For example, settle a draw automatically, send an email to players, etc.;
Billing. Accounts management (deposit, withdrawal and transfer). Account transaction for each billing action in order to have a full billing history;
Logger. Logs all info in one place;
Files management. Upload and download files; (in progress)
Notifications. Notify user about any activity in the system; (in progress)
Email. Send an email to inform user about prize won, future draws, etc.; (in progress)
Our Feature
Some of the
Best Features
Here are the most popular features of our platform

Scalability
Platform was built on modular principles so we can add or remove module any time. Plugin system implementation allows to modify platform or add additional functionality.

Game integration
With the exception of in-house developed games available on the platform, new third-party games may only be added to the platform via iframe or game API.

Flexible system of roles
Software allows to add and create not limited network, which could be easily controlled on each access level through admin module. All the access levels strongly regulated by a clear and manageable role system.

Analytics & financial reports
The solution provides access to the detailed statistics for all transactions carried out between users within the system in a few clicks.

QA & Data security
Our software is properly tested and completely proven to guarantee the efficient usage and working functionalities. High attention is paid for security and confidentiality of players' data.

Technical support 24/7
Our experts are available 24/7 for technical assistance. Our team also provides ongoing bug fixing and platform development at our company's expense.
What
makes
our team
to stand out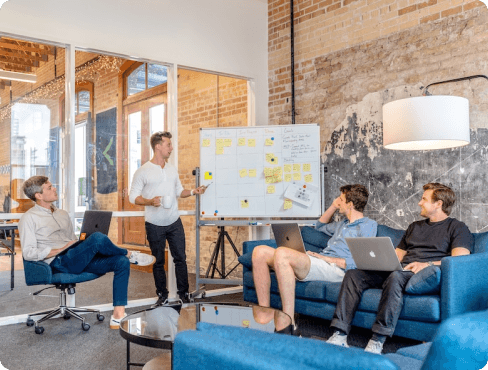 01
Flexible and scalable product
We offer an effective solution that will make your business stand out from the competitors. Our development is a unique product with the possibility of personalization and scaling - if today you make small step, tomorrow we will help you to grow bigger.
02
Quick start
Our product allows you to quickly and start your business: the software is deployed within 24 hours after receiving your domain name.
03
Customer care
We take over all the processes so that you do not worry about the project and focus on the development of your business.
04
Adaptation to any iGaming directions
We adapt the product to almost any business - by connecting plugins, importing modules and integrating with external products.
Let
s
start working
together